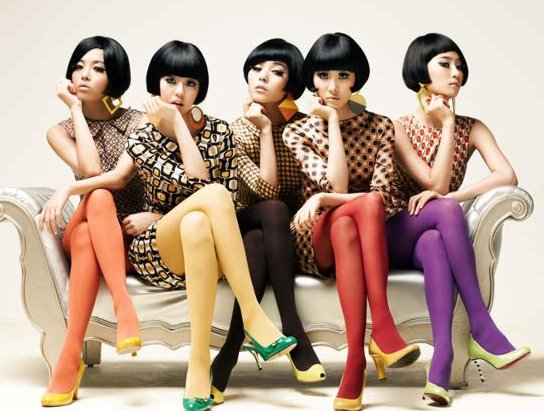 Eso fue lo que dijeron en la entrevista para un live chat para stardoll en la que mencionan como es su relacion con los Jonas Brothers y hablan sobre su musica y estilo: Ellas son las
Wonder Girls
, SUN, YENNY, YUBIN, MIMI, SOHEE - con un primer sencillo "Nobody" ya está en el Top 100 de música pop de la lista Billboard! Esto las ha convertido en las primeras artistas de Asia durante los últimos 30 años en conseguir tal éxito. Sus últimas experiencias:
LA CONEXION CON los JOBROs:
El verano del 2009 estuvimos de gira casi dos meses con los Jonas Brothers y actuamos como teloneros para ellos. Y sí es verdad, Joe ha sido visto llevar una camiseta Wonder Girls, lo que significa que deben tomar nota e intentar conseguir una, pronto será una 'must have'. Sun estuvo de cumpleaños durante la gira y los chicos son unas maravillas y le compraron una torta -- repetimos textualmente su tweet : "Los chicos me trajeron una torta para desearme feliz cumpleaños! Gracias Jonas Brothers por hacer que mi cumpleaños fuera un día muy especial!!" Como ya se imaginarán hemos pasado un verano maravilloso al estilo Wonder Girl.
ESTILO WONDER:
Hablando de estilo, nos encanta el estilo clásico de las chicas de las bandas Motown como The Marvellettes, Martha Reeves y Vandellas, y por supuesto The Supremes. Nos encanta llevar el pelo en melenas de los años 60 y completar con vestiditos de estilo de esa época y conseguir un look 100% retro, pero usando moda actual como la de Marc Jacobs y Lauren Moshi que son nuestros diseñadores favoritos. Nuestras eternas inspiradoras son por supuesto Twiggy y Audrey Hepburn pero nunca dejamos de adorar a Beyonce.
SONIDO WONDER:
¡Nos encantan las canciones grandiosas y estribillos pegadizos! Se dice que tenemos uno sonido parte R&B y parte pop, con influencias de Christina Aguilera. Nosotras estamos completamente de acuerdo, es un sonido genial y nos va genial :)
Publicado por Pamela Jonas!